Leipzig, 23. March 2017
---
Tal Granit and Sharon Maymon to start shooting "YOLO"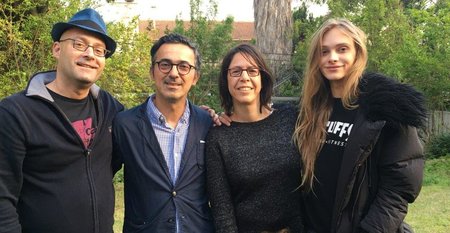 Sharon Maymon with producer Thanassis Karathanos, Tal Granit, and leading actress Stav Strashko
Israeli filmmakers Tal Granit and Sharon Maymon have started shooting their new black comedy "YOLO" earlier this week in Tel Aviv. It is a coproduction of Pie Films with Halle based production company Pallas Film who had also teamed up for the directors' previous "The Human Resources Manager" as well as "The Farewell Party".
The film tells the story of 17-year-old Eden who has just moved to a working class neighborhood with her father and two sisters. Through a social integration program she attends an upscale high school. She has arrived in the middle of the school year and struggles to fit in in this new environment. The boys don't hide their enthusiasm for Eden, or more specifically for her ample chest, an enthusiasm that is reversed when, to her complete mortification, they discover her breasts are really silicone pads.
Keshet and Tiggist, two other students like her, who also struggle with their body image recognize Eden's plight and embrace her into their group of misfits. Meanwhile, the whole school is excitedly preparing for the "Prom".
To her horror Eden discovers that the girls have cut a deal with a sleazy organ trafficker – they will "donate" their kidneys to sick people willing to pay for the chance to save their lives, and in return they get the plastic surgery that will fix there flailing social lives.
Eden joins the girls on their journey to Turkey where the operation will take place. Everything is going according to plan, until the girls uncover Eden's secret, and realize nothing is quite as it seems. Eden needs to make a choice to accept herself as she is, or continue to hide from a society that will never accept her.
The production is supported by MDM, Israel Film Fund and Jerusalem Film Fund.